New Chrysler, Dodge, Jeep, and RAMs in Newport News, VA
When you purchase a vehicle, it's a big investment, and your choice must not be taken lightly. It is a personal decision that you should carefully evaluate when deciding whether to buy a new or used car. There are pros and cons to both options, but we will focus on the situations when the benefits of purchasing a new vehicle may outweigh those of buying secondhand.
Checkered Flag CDJR is here to help you determine whether purchasing a new or a used car is the right choice for your situation. Our dealership offers both used and new vehicles for sale, so you will surely find several great options here, regardless of which you choose. Now, let us take a closer look at some of the top reasons why you should opt for a new vehicle instead of a used one when shopping for your next car.
Benefits of Buying a New Car
Here are some of the benefits of purchasing a new vehicle:
Full Factory Warranty
One of the benefits of purchasing a new car is that you don't have to worry about unexpected repairs anytime soon. This is because all new vehicles come with a manufacturer warranty that covers almost all major repairs during the first few years of ownership. The factory warranty package of a new car covers repairs or defects for at least the first few years or several thousand miles — typically around three years or 36,000 miles, whichever comes first. This is called a bumper-to-bumper warranty. There is also a limited powertrain warranty that covers the transmission, engine, and other components that power your vehicle.
You Are the First Owner
Another big advantage of buying a new vehicle is being the first owner. You will have a clean slate with no wear and tear caused by the previous owners' driving habits. This means your car will last a long time. If you take good care of your car, you will love knowing that its condition is brand-new when you start driving it. You don't have to worry about what electrical or mechanical issues could occur since it has never had a previous owner, and the automaker covers it against defects and more.
Peace of Mind With Advanced Safety Features
Another benefit you should keep in mind is that new vehicles have better safety features than their used counterparts. For instance, many new cars today come standard with automatic emergency braking and lane-departure warning systems. These safety features can save your life, making new cars well worth the investment.
Explore New CDJR Cars For Sale at Checkered Flag CDJR
If you have been looking to become the owner of a new Chrysler, Dodge, Jeep, or Ram, make the drive over to Checkered Flag CDJR in Newport News, Virginia, and we can make sure you get to experience all the models you've been dreaming about enjoying. Read on to find out the popular models we offer.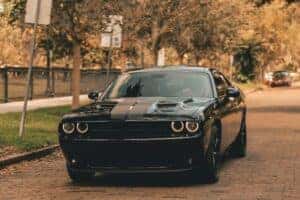 Dodge Charger
The new Dodge Charger is one of the most talked about coupes. Many people love this car because of its retro styling and rear-wheel-drive powertrain, plus the manual transmission and V-8 options. This car is bigger than the Ford Mustang and Chevrolet Camaro and looks much tougher on the streets compared to those two other models.
Jeep Cherokee
The Cherokee is a long-standing vehicle in the Jeep lineup. Since the 80s, this popular SUV has offered impressive four-by-four capability and a variety of engine options that provide power and efficiency. For instance, the 2023 Jeep Cherokee offers a 3.2-liter V-6 engine or an optional turbocharged 2.0-liter four-cylinder engine that provides a maximum towing capacity of up to 4,500 pounds. Both engines, however, deliver around 270 horsepower for a thrilling time behind the wheel.
Ram 1500
The Ram 1500 is a hard-working pickup truck that has been offering purpose and power to drivers for over 40 years. This powerful truck is designed to tow a trailer, carry all of your supplies, and keep you safe — all while looking good, too.
The 2023 Ram 1500 offers three powertrain options, including a 260-horsepower diesel-drinking turbocharged 3.0-liter V-6, a 395-horsepower 5.7-liter V-8, and a 305-horsepower 3.6-liter V-6, all of which are paired with an eight-speed automatic transmission. If you want more power, you can opt for the 702-horsepower Ram 1500 TRX.
Chrysler Pacifica
The Chrysler Pacifica provides everything you need from a minivan: comfort, safety, versatility, and space. It is also the only one offered as a plug-in hybrid and one of the few that you can get with all-wheel drive. The Pacifica comes as a seven-seater vehicle that comes in seven trim levels. The base model comes with a 3.6-liter V-6 engine that delivers 287 horsepower.
Why Choose Checkered Flag CDJR?
At Checkered Flag CDJR, we aim to provide you with some of the most impressive options around with the ability to handle any road and make any adventure much more thrilling. We want to ensure that you will be able to experience the latest trucks, SUVs, and sedans. No matter what you want to call your own, Checkered Flag CDJR is definitely the place to visit.
The moment you step into our dealership to check out the latest CDJR models, you will see that we are incredibly proud to offer you some great models. We have a vast inventory of incredible options, like the Ram 1500, Jeep Cherokee, Dodge Charger and Durango, and Chrysler Pacifica. This ensures that you can get something you will love.
Get Behind the Wheel of a New Chrysler, Jeep, Dodge, or RAM
So, why buy a new vehicle? If you are still not convinced that buying a new vehicle is the right choice, our team at Checkered Flag CDJR would be happy to answer any questions you may have and help you find a new car that suits your budget and lifestyle. Give us a call at (757) 854-6210 and stop by our dealership in Newport News, VA or contact us online.
If you are in the market for a new car, why not shop our selection online? You can then head to our dealership for a test drive. You might just find the perfect vehicle for you to drive back home or beyond with affordable monthly payments. If you need financing, you can also apply for it through our website.